Shop
All Clearwater Safety Group Risk Assessments and other documents have been written by very experienced and qualified Safety Professionals.
Every site worker must be given a suitable site induction.
The induction should be site specific and highlight any particular risks and control measures that those working on the project need to know about.
This site induction course has been written to take account of the difficulties caused by COVID 19 in having site personnel gathered together in a room to be inducted onto a site.
Once you have purchased a course, please email siteinductions@clearwater-safety.co.uk with:
The site address (with postcode)
Brief details of the project – ie building 20 houses on brownfield site
Name and contact phone of the site manager/assistant manager
Name and phone of the First Aider(s)
– The location of the first aid kits
Name and phone of the Traffic Marshals(s)
Name and phone of the Fire Marshal(s)
Car park information – on site/in a local car park / on the street – any restrictions
Location of the welfare facilities/toilets etc ( we will also need a site plan showing this)
Emergency assembly points and procedures
– what fire warning you have – air horn/hand held bell etc
Any Permit to work requirements
What PPE rules you have
We will use this information to edit the induction you have just purchased to create a site-specific version.
BUILDING SITE INDUCTIONS
TO PURCHASE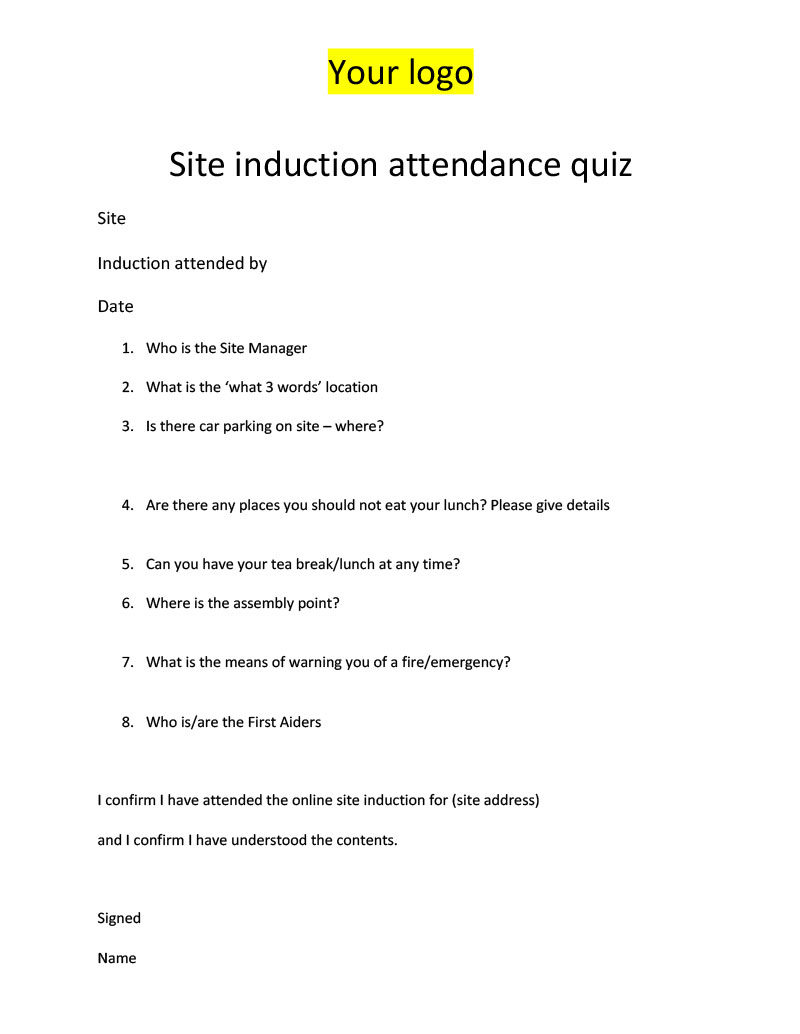 Risk Assessment templates
All Clearwater Safety Group Risk Assessments and other documents have been written by very experienced and qualified Safety Professionals.
Many of the risk assessment forms have been pre-populated with the hazards you are likely to face when carrying out any particular task or operation, and with the recommended control measures we feel should be implemented to manage resultant risk.
All the risk assessment forms show the initial risk – before the control measures and the residual – once the control measures have been implemented.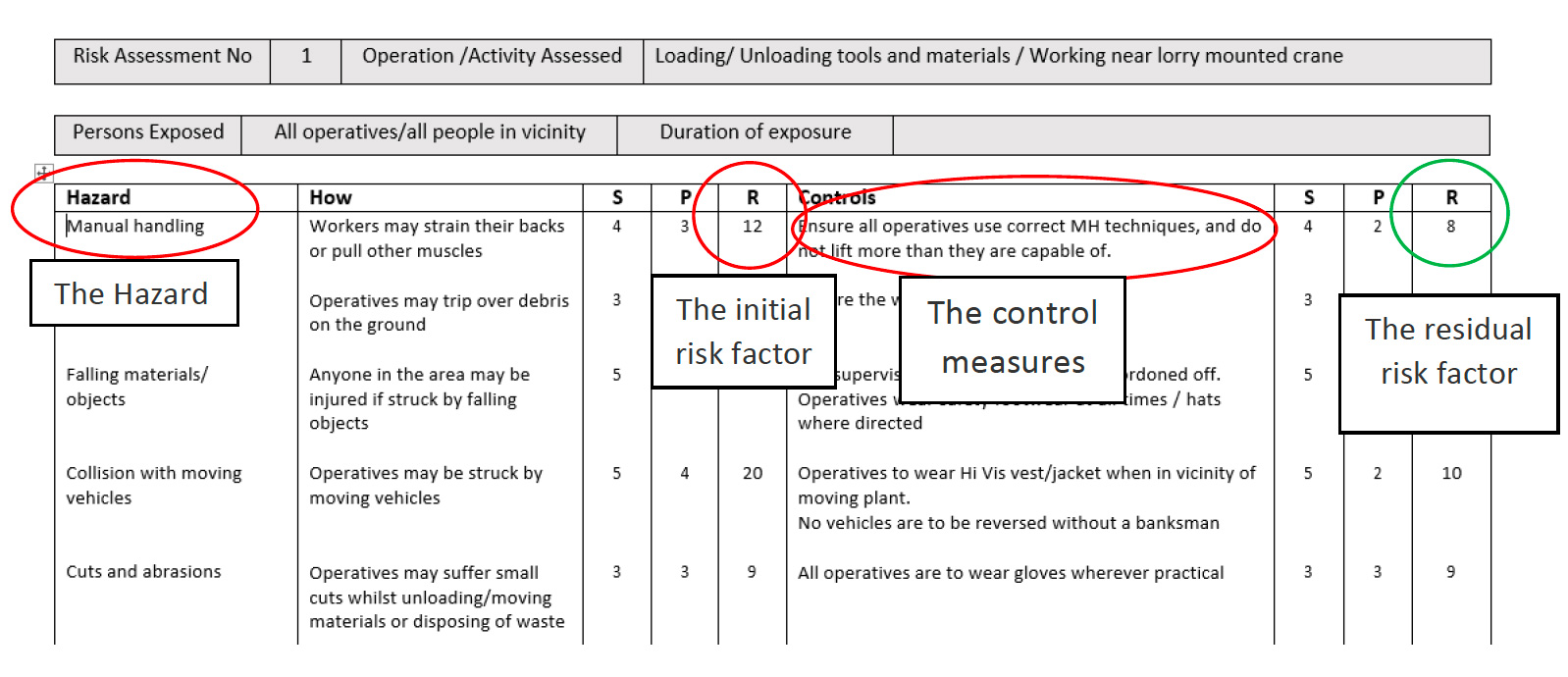 The documents will be delivered instantly to your email address in Microsoft Word format, ready for you to start editing. If you do not currently use Microsoft word, you can download an alternative word processing program such as  https://www.libreoffice.org/, or you can use Google Docs or Apple docs.
All the documents are editable to your own style or language, and have space for your company details, so you can personalise them completely.
Below is an example of a completed RA.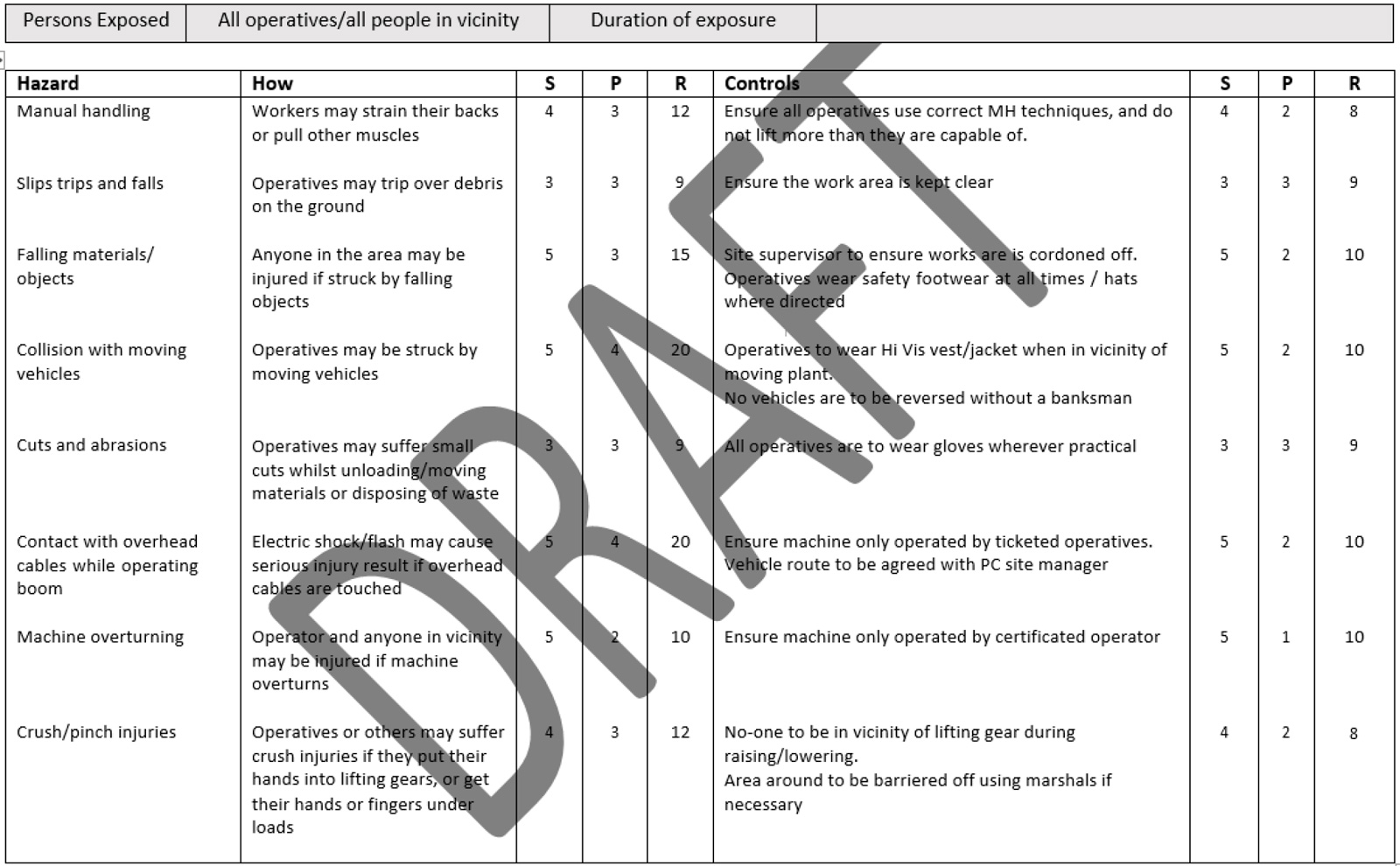 Disclaimer
All information including the control measures written into the risk assessment is given in good faith using the skills, knowledge and experience of the author gained over 20 years in the health and safety profession.
Clearwater Safety Group will not accept any responsibility for your subsequent acts or omissions. If you have any doubts or concerns about your ability to complete the risk assessment or work to its recommendations, you should take professional advice.
RISK ASSESSMENTS TO PURCHASE
SPECIAL OFFER – HALF PRICE
Our Risk Assessment documents are currently available for
£9.99 + VAT
until the end of August.
After this they will revert to their full price of £19.99 + VAT
GUIDANCE NOTES TO PURCHASE