Blog and Facebook feed
Useful information and the latest articles we have posted.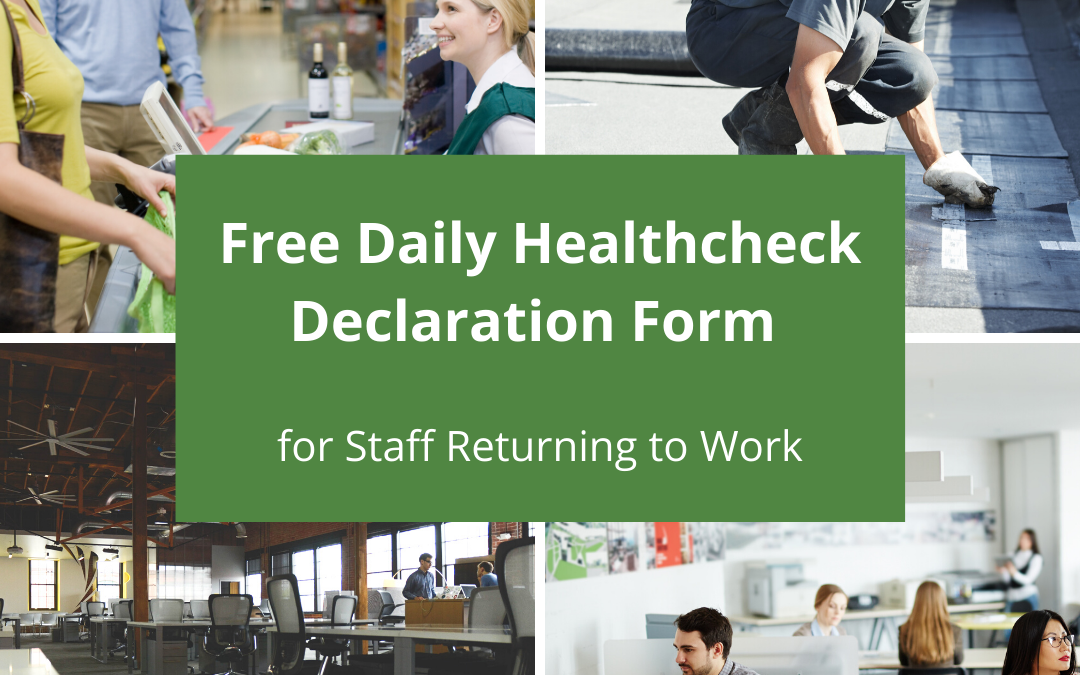 May 12, 2020
The government and many business leaders are talking about the need to get the economy back to work. Getting people back to work is a given. However getting people back to a shared workplace is not...
read more
Clearwater Safety Group Ltd
Blog: 5 tips to optimise your desk at home for proper DSE safety

You may think working on a computer at your desk is a relatively risk-free environment, however there are some real dangers when it comes to maintaining a healthy set up. You want to avoid neck, back and arm pain, along with eye strain and fatigue; all of which can have a significant impact on your quality of life during work and beyond.

Using display screen equipment (DSE) is pretty much a staple of everyday life - especially right now - and with a few simple steps, you can ensure precautions are taken to ensure both a comfortable and productive configuration.

Today we're sharing our top 5 tips to optimise your desk setup to minimise both short and long-term discomfort whilst working with DSE, especially from home.

1. Make sure your screen is adjusted properly

Some of the most common complaints when working with DSE are eye strain, fatigue and headaches, all of which can be caused by improper screen set-up.

The first thing to do is to make sure the screen is approximately an arm's length from you and the top of the screen is about eye level. You should sit with your head upright (not leaning forward which can naturally happen over time without us noticing) and should make a conscious effort to keep your shoulders relaxed, not bunched up towards the ears, to minimise tension.

The display on the screen itself should have adjustable brightness, have a stable, non-flickering image and the text on screen should be a suitable size and spacing so as not to strain the eyes when reading.

Taking regular breaks is also encouraged, ideally 5 minutes for every 30 minutes you spend looking at the screen.

2. Consider your mouse

The computer mouse should be close to the body so that the arm is not extended or stretched for long periods of time. Your upper arm should be almost vertical, with a 90-degree bend in the elbow making the forearms horizontal to help minimise the stress on the body. It's also important to maintain a neutral posture in the wrists to avoid chronic issues with the tendons and nerves which can create significant pain and damage over time.

If you find you've got pain or pressure on the underside of your wrist, we highly recommend investing in a wrist rest to cushion the joint and maintain the proper neutral posture in the wrist.

If your work involves using the mouse for prolonged periods of time, we suggest trying to use keyboard shortcuts wherever possible to vary the movement and breakup long periods of mouse use.

Proper Keyboard Use

A keyboard is not a one size fits all tool! You should consider the size of the keyboard in relation to your hands; for example, if you use a large keyboard but have smaller hands, you may find yourself overextending all day, forcing the hands into uncomfortable positions, which can lead to hand, arm, and shoulder pain over time.

Ensure there is space around the keyboard. Having a small or cluttered work surface can mean you're constantly cramped into one position which can be awkward and uncomfortable. Ample workspace will allow you to adjust the configuration to your individual needs. You may also benefit from choosing a wireless keyboard which can be moved freely to find the most comfortable position.

Make sure the chair is properly adjusted so that the wrists stay in a neutral position, just like with the mouse previously mentioned.

Adjust your chair

The position of your chair is arguably the most important aspect of proper DSE safety as it plays such a big part in keeping the spine in a suitable position.

You should sit back in the chair, not perched on the edge, and keep your chair tucked in closely to the desk to maintain contact between the back and the back of the seat. Your hips should be slightly higher than the knees when sitting, and your feet should be flat on the floor. If that's not possible, grab yourself a footrest!

As obvious as it may sound, slouching is discouraged as this can cause the pelvis to tilt backwards which can cause excessive strain on the lumbar discs.

Consider the lighting

One aspect that can easily be overlooked is the lighting in the room where DSE is being used. In an ideal world, natural light is preferred, but where this is not possible ceiling lighting or lamps should be used. These lights should be kept at an adequate brightness to ensure you don't have to strain your eyes, and an appropriate contrast between the screen and the background environment is maintained. This will vary from person to person depending on your individual vision requirements and the nature of your work.

Where you can, you should also minimise glare from the lightning, so consider this when planning the layout of the desks in relation to windows and artificial lights. If there is light from the window reflecting on the screen, you could fit a blind to help combat this.

We hope you have found this article helpful, and by taking action on the advice in this blog, you'll ensure you can work comfortably and productively every day, resulting in a happier and more productive work life!
BNI Sussex Members, BNI Members